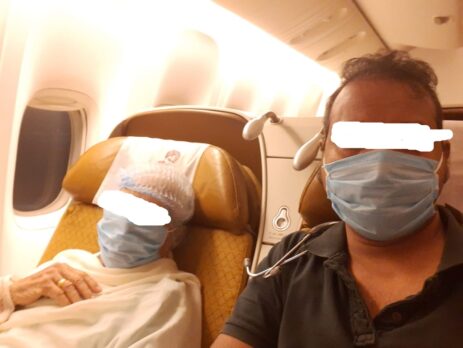 An 87 years old Canadian lady lost her son, while together visiting India. Over with his cremation, she was devastated, deplorable and drained. Further isolated during Covid Lockdown. She was fragile and unable to return back to Canada due to limited flights.
The pain gets compounded when she got admitted to Hospital for Parkinson, AKI, and Hypercalcaemia etc. She required Intensive Care (ICU) for many days. The family at Canada was concerned. They wanted her to be shifted to Canada for better care.
ISAPL received the request. Considering her medical situation, Covid scare, lockdown regulations and limited flights; ISAPL team huddled under the leadership of Director-Operations Ms. Poonam.
ISAPL medical team evaluated the condition, in consultation to Treating doctors. A 5-days monitoring and stabilizing process started. Meantime, Logistics team started working on Air transfer arrangements. Options were Air Charter ambulance & Stretcher on commercial airlines. The team went ahead getting permissions and clearances from Canadian High Commission, Ottawa HQ and Toronto authorities for this special transfer during Covid.
The medication, equipments and Medic team was formed for a 9 hrs drive from hospital to International Airport. And the 14 hrs non-stop flight from Delhi to Toronto.
The Medical team closely monitored the patient condition and revised medications for Parkinson & AKI. Conducted Covid tests. Simultaneously, Ms. Poonam and family built her emotional confidence. Results were encouraging. Her medical condition improved. It was decided to move her in Business Class; with Oxygen, Catheter etc. This was a big cost and time saver for the family.
ISAPL had to work thru various offices and channels to get special permission for Emergency visa (without Biometrics) for the Dr. Considering travel embargo and stringent Quarantine rules both at India & Toronto; there were enough blockades that Ms. Poonam sorted thru special exemptions and permissions.
The ISAPL kept family well assured while handling the challenges both at Delhi Departure and Toronto arrival.
ISAPL adds another success story !