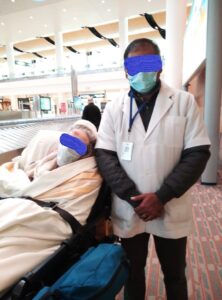 This time, it is a 70+ years old Canadian lady vacationing at India; when the Lockdown held her back at a Dharamshala (India). She was confined to the place for almost 5 months. And once she started moving out, had a fall causing cerebral injury. The medical care could keep her live with negligible movement. She was under home care for long enough developing sores. The family at Canada was concerned. They wanted her to be shifted to Canada for better care.
She was infirm and longing to return back to Canada.
ISAPL was recommended by the Canadian Govt officers. ISAPL team swung into action. Connecting the family, Care provider, Airlines, Govt and many many more.  ISAPL finalized the travel routing and medical care needed.
A 5-days monitoring and stabilizing process started. having enough experience, ISAPL team swiftly arranged the permissions and clearances from Canadian High Commission, Ottawa HQ and Airlines authorities for yet another special transfer during Covid.
She was shifted to Delhi, under Medical care and supervision. She was stabilized at Delhi for 72 hours and Covid tests were conducted. She was prepared mentally, Physically and emotionally for the 13 hrs non-stop flight from Delhi to Toronto. And another connection of 2 hours flying.
ISAPL, under the leadership of Ms. Poonam is well versed, equipped, experienced in supporting such Medical Repatriations. Ms. Poonam sorted thru special exemptions and permissions.
The entire family at Winnipeg was assured of her safe travel.
We do best what we intend to…
Humane to Those in Distress !!