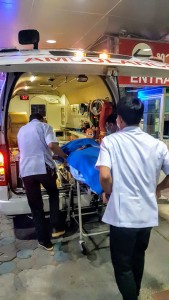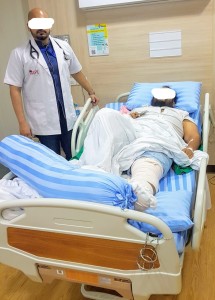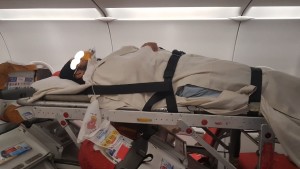 Indian newly married couple. On their Honeymoon trip at an Island in Ko Samui, Thailand.
The adventurous hubby drives around the wife on a Motorbike. All goes well, till he bangs it into a wall. Collar bones and knees fractured for self. Rib cage and Liver…..Wife too gets Collar bone fractured. Both need Emergency medical assistance and complex surgery later on. Both are admitted in the regional hospital and get the Primary care.
Their friend calls ISAPL for help. The Director Operations Ms. Poonam gets into action, as always. The ISAPL-CMO takes over the medical part of best suited Super-specialty care. And Ms. Poonam continues with the logistics of arranging the patients transfer to mainland and subsequently to Delhi.
Many options and opinions and constraints. The Infirm bodies, Continuous care, Location transfers, Budget constraints, Corona Virus. Treating doctor is not confident of patient discharge or transfer elsewhere. ISAPL-CMO assures the medical competence, equipment and care. He is simply 14 years experience in handling 100s of patient transfer cases worldwide. Logistics challenge being transfer from island to mainland. Family simply on shoe string budget. Cannot afford an Air transfer of 40 mins. Medical opinions and advises sought. Meticulously achieved thru the Ferry+Road ambulance of 8 hours.
ISAPL beat the next challenge of Bangkok to Delhi for cost and availability and feasibility. Director Operations Ms. Poonam has wide experience on it. She deputes the CMO at Bangkok to prepare the couple medically and Psychologically to be on a stretcher in a passenger flight. Meantime, Ms. Poonam pulls the strings on Indian national carrier. Could arrange for medical approvals and Engineering for Stretcher on Air India, within 18 hours; that typically demands 72-120 hours.
Rigorous planning, Multiple transfers , 4 Medical facilities, Budget; with Empathy. Couple landed safe and secured at Delhi hospital.
Another set of smiles protected by ISAPL.
Humane to Those in Distress !